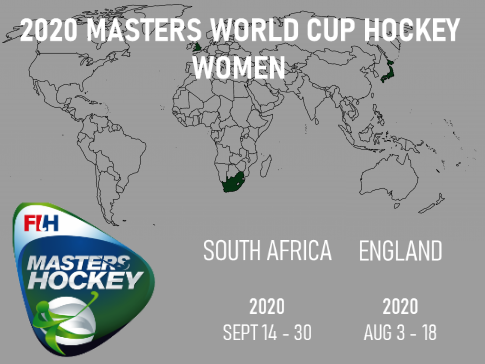 Player nominations are now open for Masters World Cup 2020 Women's teams.
Players may nominate by going to the link for their age group and lodging their nomination with payment of $48 nomination fee.
Nominations close 11pm (AEST) Monday 9 September 2019. No late nominations will be accepted.
IMPORTANT INFORMATION:
Teams (17 players including 2 x GKs) will be selected at the 2019 National Masters Championships to be held on the Gold Coast Thursday 26 September to Saturday 5 October in the following age divisions – Over 35s, Over 40s, Over 45s, Over 50s, Over 55s, Over 60s, Over 65s. In the first year of WMH World Cups, a Spirit of Masters (Over55s-Over65s) competition may be conducted for both men and women. In this case Australia may consider selection of "Wattles" women's teams.
Commitments required will be as follows:
Age Groups Tournament Location Tour Date Commitment
Over 35s & Over 40s Nottingham, England Monday 3 August – Tuesday 18 August 2020
Over 45s – Over 65s Capetown, South Africa Monday 14 – Wednesday 30 September 2020
IMPORTANT INFORMATION for consideration when nominating:
The Australian Women's Contingent commitment dates include days for pre tournament training at the venue and are non negotiable.
Participation is at player's full expense which includes accommodation, entry fee, training, team transport during the event, official dinners and team levy. The budget for this event has not been finalised, however preliminary indications are that the cost could be as high as $3,500. The committee will take all steps to keep costs to a minimum but a significant increase on previous tour costs is expected.
Uniform is an additional expense. NB. The uniforms will include 2018 World Cup and 2019 Trans Tasman playing strip, socks, track suit, hoodies, training singlet, shorts and walk out shirts. Additional uniforms may be required eg. formal shirt.
Travel arrangements to and from World Cup events are the responsibility of selected players and officials at their own expense. All selected players and appointed officials will be required to stay at the accommodation booked by HAMC. Suitable team transport will be organised. Supporters are encouraged to attend but will not be part of the contingent for the purposes of accommodation and official contingent and team functions.
Nomination Links:
Over 35s and Over 40s Women: https://mpnwwc2020.eventdesq.com/
Over 45s – Over 65s Women: https://mpnsawc2020.eventdesq.com/
Nominations close 11pm (AEST) Monday 9 September 2019. No late nominations will be accepted.
For further information about nominations contact Administration Officer, Gail Lomas Email: This email address is being protected from spambots. You need JavaScript enabled to view it. Phone: 0421 996 540